Trinket Box Item #C20-CE-J324 Monkey With Baby
Approximate Size: 2" x 1.5" x 2.1"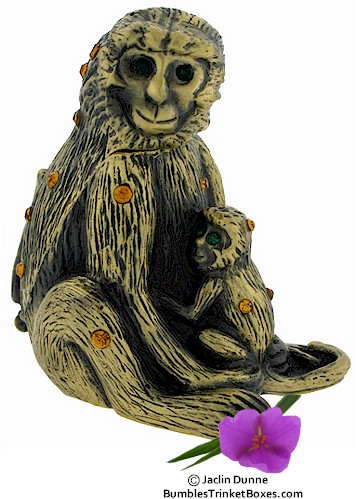 This box is for decorative use only.
NOT A TOY- Keep out of children's reach.
Each trinket box or keepsake is sold separately unless noted in the description text. Different views along with measurements are provided to help you determine actual size. Pendants, if included, are not shown to size and are for adult use only. Items arrive boxed. Sorry, flowers are not included. Standard Priority shipping only- Express delivery NOT available.
This trinket box is returnable in accordance with store policies.
Legal Notice To Businesses:
All images and content is copyrighted.
© 2003-2020 Jaclin Dunne. DO NOT COPY
Monkey With Baby
This Monkey With Baby will hold our standard weight, half-round, 6mm wide, finger size 11 wedding band. Hinged lid with magnet closure.
Price: $20.00 each
Bumble's clearance price will appear after the
item has been added to the shopping cart.

Shipping Information:
USA Delivery- Ships via insured US Priority Mail only.
CANADA Delivery- Ships via insured First Class or US Priority International.